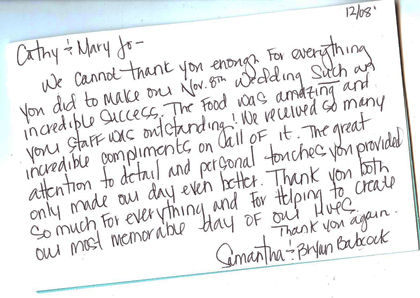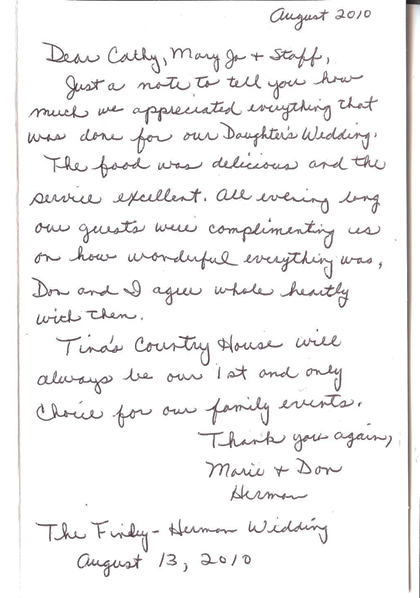 Dear Mary Jo and Kathy,
Elegant - Enjoyable - Delicious - Delightful - Pleasant - Wonderful! These are all descriptions of the many compliments we received after hosting the Wedding Celebration of Andy & Liz Tatham at Tina's Country House.
Ken and I just wanted to express our sincere appreciation to you both and to your fine staff. Everything was perfect! The room - the chairs - the meal - everything!
Thank You so much for your kind assistance in making our Celebration a day which we will always hold precious in our hearts.
It has been our privilege working along side of you.
May the Lord Bless you and yours today,
Kennett & Kathleen
---
Dear Kathy (and crew),
Thank you so very much for all your services in making our daughter's wedding complete. Everything was so beautiful! The food was excellent, the service your staff provided was great! I thank you for calming me with all my jitters & wanting all to be perfect for Steve & Theresa when in fact you made it all possible.
We made the best choice in choosing your facility for our celebration.
Many thanks to you & your staff!!
Dan & Cherie
---
Dear Cathy and Mary Jo,
Thank you so much for a beautiful reception. Everything was greaet! We really appreciate all your help in making my day special!
Deanna & Erik Smith 
---
Mary Jo & Kathy,
Thank you just doesn't seem enough. Everything was absolutely perfect. We had many compliments on the delicious food. I will highly recommend your services to everyone. Once again thank you & God bless.
I also want to compliment you on your wonderful staff - there were many wonderful compliments on them also.
Alan & Pam Shier
11-12-01
---
To the Staff -
Thank you so much for everything you did. Our reception was beautiful. The hall was fantastic, all the staff was very friendly & professional. Also, the food, what can we say - it was excellent! The fruit bar was even better than expected. Everything was absolutely perfect. We would recommend Tina's to anyone who asks. Thank you for making our day so perfect.
Love, Jennifer & Pat Cataldo
6-19-98
---
Dear Cathy and Mary Jo,

Words cannot express what a wonderful job the two of you, and your staff, did for our daughter's wedding. (Joan and Bill McGee - September 18, 1993).
We received compliments all day Sunday on the food, the presentation, the wedding cake, staff, and decorations. It was fantastic.
Please show this note to any potential wedding party:
Cathy and Mary Jo, again, many thanks!
Sincerely,
Larry and Betty Lantzy
September 21, 1993